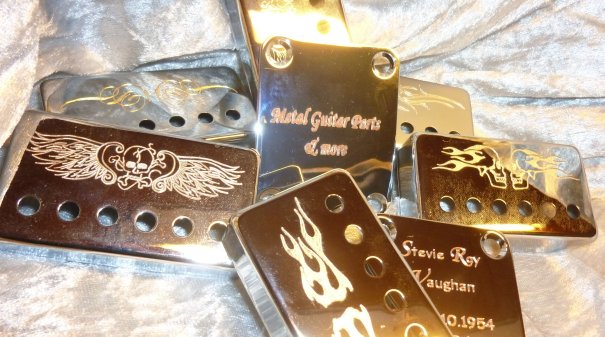 Metal Guitar Parts & more ist seit Sommer 2012 im Geschäft und ist spezialisiert auf die hochwertige Gravur von Humbucker-Pickup-Covers sowie individuelle Gravuren von Neckplates.
Die Gravuren werden von einem Meisterbetrieb in filigraner Präzision gefertigt.
Es werden Covers bester Qualität aus verchromten Neusilber verwendet. Auf Kundenwunsch können auch andere Oberflächen (z.B. schwarz oder vergoldet) graviert werden
english version:
Metal Guitar Parts & more is since summer 2012 on the scene. Metal Guitar Parts & more is specialized on engraving Humbucker Guitar Pickup-Covers with highly precision and affection to detail. Also availiable individually engraved neckplates.

Auf Nachfrage erhältlich bei Staufer Guitars // On request available at Staufer Guitars.
www.staufer-guitars.de